Tom Demeropolis |Cincinnati Business Courier
A company is working to redevelop a former Bigg's grocery store into an indoor skydiving and adventure attraction.
Frayer Enterprises LLC, a national franchisee of Urban Air Trampoline & Adventure Parks, received approval from the Hamilton County Rural Zoning Commission for an adjustment to a previously approved planned unit development at Ridgewater Plaza in Columbia Township. The company plans to open an Urban Air Trampoline & Adventure Park, an indoor skydiving facility that would also include indoor trampolines, laser tag, mini golf and other family-friendly activities.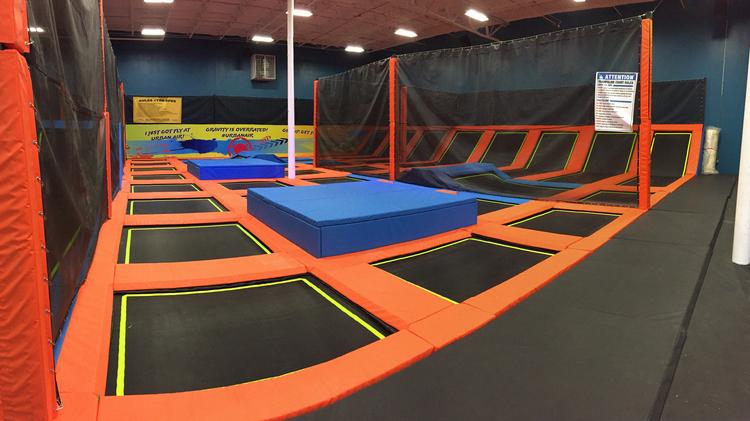 Michael Browning, CEO and co-founder of Dallas/Fort Worth-based Urban Air Trampoline & Adventure Park, said this will be one of the largest locations to open yet. The attraction, which would be located at 3240 Highland Ave., will fill the entire former grocery store, which is about 65,000 square feet. It is scheduled to open in July or August.
"This is going to be significantly larger based on sheer size and attractions," Browning told me.
The Cincinnati location will have an indoor skydiving tunnel that will allow customers to fly up to 21 feet in the air. Other attractions will include a two-story, electric go-kart track with cars that can reach speeds of up to 50 mph, wall-to-wall trampoline arenas, dodgeball courts and other activities.
The total investment is expected to be between $5 million and $6 million.
The architect for the project is Nove out of Dallas. Orijin 3 Design Studio is the owner's representative for the height variance.
Frayer Enterprises needs to build a vertical addition to make room for the indoor skydiving attraction as part of the conversion of the vacant grocery store into a new Urban Air Trampoline & Adventure Park. The addition would be more than 59 feet tall.
Frayer Enterprises purchased the property, located at 5371-5385 Ridge Ave., at the beginning of 2016 for more than $9.9 million, according to property records.
Urban Air Trampoline & Adventure Park is a national indoor trampoline and adventure park franchise company. There are more than 50 Urban Air Trampoline Park locations in the U.S., according to the company's website. The average cost to open a location is $1.5 million.
A Cincinnati location is one of dozens listed as soon to be opened.
A typical Urban Air Trampoline & Adventure Park, which usually measures about 25,000 square feet, draws about 180,000 guests per year. Since the Cincinnati location will be nearly three times larger, Browning expects it will draw quite a bit more.
"With these attractions, people will drive from hours away," Browning said told me. "It's hard to say what we anticipate, but we would love to see more than 180,000."
The entertainment center also is expected to include a full-service restaurant that would serve beer and wine.
Browning said Cincinnati met the company's criteria after going through an extensive real estate and demographic analysis. The company looks for a large population of children as well as tweens and teens. The typical Urban Air hosts about 2,600 birthday parties per year.
Browning expects to hire about 65 total employees for the Cincinnati Urban Air location.